Click here to view the News archive.
June 2008
There's Wandahome on site too!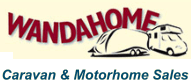 As many of you will already know, its not just Waudbys that is housed at our South Cave site, We are also the home of Wandahome (South Cave) Ltd which are going from strength to strength.
Wandahome (South Cave) Ltd have just added Swift caravans to its already strong portfolio of caravan manufacturers, thus giving representation from Coachman, Compass, Elddis, Buccaneer, Bailey, Adria and now from September 2008 Swift.
Apart from almost 100 brand new 08 model caravans on display, they also have a large selection of pre-owned caravans to choose from and almost 150 of the pre-owned ranging from £1000 up to £15000 so make sure you pay their website a visit www.caravanbuys.com. There you will find all the information you require on both new and pre-owned caravans currently on stock.
Wandahome are believed to have the largest selection of caravans on display in Yorkshire on our 14 acre site and they advertise the cheapest caravans in the UK. Every Pre-owned caravan above £3000 comes with an impressive 3 Year Warranty giving you the customer peace of mind caravanning.
Steve Bateman, Director for Wandahome (South Cave) Ltd commented that there is a lot to look forward to over the coming months. They have the launch of all of the new Bailey Pagent Series 7 which will be available to view at their Bailey Roadshow event on Sat 5th and Sun 6th July. These dates are also the start of their month long Summer Jamboree with offers you cannot afford to miss.
Why not make a day of it and visit Waudbys and Wandahome (South Cave) Ltd at South Cave, East Yorkshire.