When caravan season arrives, the last thing you want is to find your van in a state. But if you leave it all year round without caring for it properly, that's exactly what will happen.
Most of us can't stand the thought of cleaning, but it's an important part of being a caravan owner. It will give you a welcoming dwelling for your holiday, and it'll also mean your caravan lasts longer.
This guide will give you some top tips for cleaning your caravan inside and out, ensuring it's always gleaming and looking as good as new.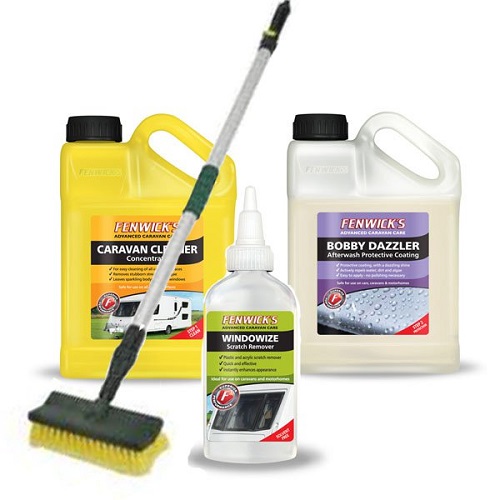 But first, a couple of warnings:
Don't use bleach or household cleaners – These can cause harsh chemicals which may damage your caravan and its parts. There are lots of specialist caravan cleaning supplies you can use to do the job.

Don't use a pressure washer – The high pressure might make cleaning quicker, but again this can cause damage by forcing the water into weak areas of the caravan body and damaging seals. This in turn can cause dampness inside the caravan.
So now you know what not to do, here's how you can clean your caravan easily...
Work from the top down
It makes sense to start from the top when cleaning, otherwise you'll end up with dirty water and debris trickling down over the areas you've already washed. When it comes to hard to reach areas, you'll want a step ladder to make things easier – just make sure you're careful as this may become slippery when wet.
Another useful tool is an extendable brush. This one is especially designed for cleaning caravans and motorhomes, and can be connected to your hose pipe to allow a constant flow of water.
Use specialist caravan cleaners
As we mentioned earlier, harsh household chemical cleaners can be damaging to your caravan. But a simple soap and water solution might not get the job done either, particular when mud and dirt has really gathered.
Thankfully, there are a range of helpful caravan exterior cleaners to get the job done easily. Fenwicks are a leading name in caravan cleaners, with some good options including:
Fenwicks Caravan Cleaner – A great all round cleaner that helps to remove algae, black marks, dirt, grime and mud.

Fenwicks Black Streak Remover – Useful for removing black marks and dirt in between full washes.

Fenwicks Windowize – Especially designed for cleaning plastic and acrylic windows, this formula also removes minor scratches from dirt and grit.

Fenwicks Bobby Dazzler – A formula that you can use after washing to provide a gleaming finish without the need for polishing.
Believe it or not, caravanning in winter isn't completely out of the question, with many people enjoying a getaway during the colder months. But if your caravan does go into storage after summer, Fenwicks Overwintering is a worthwhile investment, offering a layer of protection against mould, bird lime and algae.
Clean your awnings too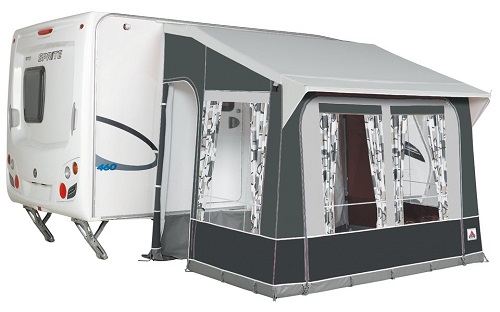 If you're a regular caravanner, you'll more than likely have an awning or two that you use. When you're cleaning your caravan, it's the perfect time to also give awnings the once over.
The easiest way to do this is by erecting the awning and attaching to the caravan. Again, avoid using harsh chemicals and pressure washers as these can cause damage. Fenwicks Awning and Gazebo Cleaner is simple to use and will help remove stubborn dirt and grime; all you need to do is spray on, brush softly and rinse with water.
Before packing away, ensure that the awning is completely dry, or you'll find that mildew will form.
Every now and again, you might find that you're sat in your awning and the rain seeps through. This will mean it needs reproofing. Fenwicks Awning and Gazebo Reproofer provides an effective barrier against the elements.
Remember to clean the interior
Once the outside looks as good as new, it's time to move inside and ensure it's fit for living in during your holiday. You don't want it to be untidy and dirty, as that will only cause stress during a time when you're supposed to be relaxing. Cleaning your caravan's interior isn't as daunting as it might seem at first.
In the bathroom, a waste and pipe cleaner can be used to remove any blockages. Specially formulated caravan bathroom cleaners are also available to clean plastic surfaces, fixtures and fittings.
For other areas of the caravan, general home cleaning products are perfect for keeping things fresh and clean. You can use a vacuum cleaner on carpeted areas to pick up dust, dirt and debris. Hard floors can be swept and mopped in the same way as you would in your home.
Clean the inside of the windows using a specialist caravan window cleaner that's designed for use on glass and acrylic windows.
It might also be worth opening windows and doors on a regular basis to allow fresh air through the van.
Clean your caravan regularly
It's probably not a task you'll relish, but if you clean your caravan regularly, you'll reduce the time it takes and the effort you have to put in.
If you're a new owner, check out our caravan cleaning kits to help you keep on top of things and avoid a build up of dirt and grime. To add an extra layer of protection to your van when it's not in use, a caravan cover is a great investment.
What could be better than a fresh, clean caravan from which to enjoy your holiday? Now all you need to do is decide where you're going...