Many people think caravanning holidays are reserved for the UK's hottest months. But there's no reason why you can't enjoy a caravan break when the weather's not at it's best.
In fact, lots of people choose to go on caravan breaks during the winter.
Having said that, it's not just a case of packing your stuff and heading to your favourite caravan park. There are some different considerations you'll have to make and perhaps some extra items you'll need to take.
Here's your guide to caravanning in winter.
Check the weather forecast to avoid extreme weather
Ahead of your trip, it might be a good idea to check the weather forecast. Sure, winter caravanning can be fun. But if the weather really turns, it can soon ruin your break.
The last thing you want is to end up stranded somewhere in deep snow or suffering a washout at a flooded caravan park.
Check your site is open before setting off
It's sometimes tempting to just hook up the caravan, jump in the car and set off on a spontaneous adventure. But during winter, it's better to do some research first. Some caravan parks close in the colder months, so make sure your chosen destination is actually open.
Even if you know it is, it might pay to make a quick call on the day just to make sure the conditions are okay there.
Watch your weight to avoid breaking the law
With the extra gear you'll be taking, the overall weight of your car and caravan will increase. But it's important that you check you're not over the legal limit. You can check the weight at a local weighbridge, where you can have it recorded.
If you passed your driving test before 1997, you're likely to be able to drive any load up to a weight of 8.25 tonnes.
However, if you passed in 1997 or later, you're a little more restricted. You can:
Drive a category B3 vehicle and tow a caravan with a Maximum Authorised Mass (MAM) of 750kg.

Or tow a caravan of more than 750kg, provided the combined weight of the caravan and vehicle is less than 3,500kg and the MAM is less than the unladen car weight.
Take warm bed clothes and bedding to stay warm at night
Winter nights can be extremely cold. When the sun goes down, the temperature quickly plummets. And in a caravan, the walls are much thinner than those in your house.
When it's bedtime, make sure you're prepared by taking your warmest bed clothes to sleep in, and a thick duvet to keep you snug.
Leave the heating on at a constant level for increased efficiency
When it's cold, it's always tempting to blast the heating up high to warm up your caravan. But it soon becomes unbearably warm... And you end up turning it all the way down or even off.
But that can be wasteful – as well as tiresome when you have to keep changing the setting. Instead, leave the heating running at a constant temperature. It'll improve the efficiency and prevent the caravan from constantly fluctuating between hot and cold.
Leave a window on latch to reduce condensation
It might seem counterproductive to have an open window while you're trying to keep your caravan warm. But when it's warm inside and cold out, your windows can easily steam up and become condensed.
Try leaving a window on the latch to remove the condensation.
Combine gas and electric for better efficiency
Another way to improve your energy efficiency is to combine electric and gas power. Rather than just relying on one, use both together which will preserve your supplies for longer.
Avoid this mistake to ensure you have a gas supply
Gas is important for any caravan trip. But there is one pitfall you must avoid when caravanning in the winter:
Taking the wrong gas.
Caravan gas cylinders run off one of two kinds of gas; propane or butane. Generally speaking, most people use butane as it delivers better efficiency and is cheaper.
However, propane is more effective at temperatures below freezing. So when you're in your caravan in the middle of winter, it's best to use propane to ensure you always have a supply.
Ensure you always have a supply of fresh water
Taps and water pipes can become frozen in the winter. One of the most important things you'll need is drinking water, so be prepared and take a reserve supply.
Pack a few bottles and keep them in the caravan to ensure you've always got a supply if your taps freeze.
Insulate your water supply to prevent freezing
One good way to prevent the freezing of your water supply is to insulate it. You can get an insulating cover or bag to store your aquaroll in, which will lower the freezing point. You could also use a stand to elevate the roll, which will bring it away from the cold floor and reduce the chances of it freezing.
Keep a back up supply of food for the worst case scenario
When it comes to food for your trip, it's better to have too much than not enough. You should take extra, especially non-perishables such as tins. Although you might not need them, they'll be lifesavers if the worst happens and you get stranded in bad weather.
Take a camping stove in case of emergency
If you're travelling and the weather gets to the point where you become stranded, a camping stove is a great item to have. It'll enable you to cook something warm, which will give you energy and keep your body temperature up.
An SOS kit might also be a good idea just in case you break down or are stranded.
Take a sweeping brush to prevent a build up of snow
If you're enjoying your winter break and it starts to snow, you need to be prepared. Take a soft bristled broom or brush to sweep any snow from your windows. It also pays to sweep away any snow from your door step, as this will stop it from turning into slippery ice when the temperature reaches freezes.
Use a shovel and rock salt to keep pathways clear
As well as preventing slips and falls on your caravan doorstep, you'll need to keep the surrounding areas hazard-free. Take a snow shovel to easily clear any build up from the pathways around your caravan.
Rock salt is also a useful idea; just sprinkle on the pavement to keep them free of ice and reduce the risk of slipping.
Use some old plywood to prevent your caravan from sinking
When you pitch up, the ground beneath your caravan might be soft in the winter – particularly if the weather has been wet. This can cause the steadies to sink into the ground.
To prevent this happening, use some plywood boards and place them under the wheels and steadies to keep them on firm ground.
When it comes to setting off, soft ground can make it hard to move a car that's dragging the weight of a caravan. Invest in some grip tracks to give yourself some traction.
Increase your space and keep belongings protected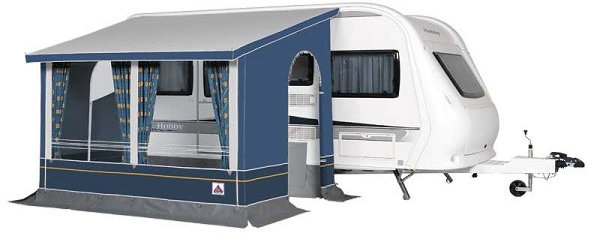 Above: A porch awning can be a great way to offer additional space and avoid trampling muddy footprints through your caravan during winter. Pictured is the Dorema Davos 4 Season Porch Awning.
If you're out and about during the day, the last thing you want when you get back to your caravan is to leave muddy footprints all over. But you're probably not going to want to spend much time out in the cold removing wet layers and boots.
To overcome this conundrum, a porch awning is a great investment. It'll offer shelter from the elements as you put your shoes on or take them off. And you can also leave wet, muddy clothes and footwear in it so you don't trail them through the van.
Do you fancy caravanning in winter?
Are you a keen winter caravanner? Or are you thinking of trying it for the first time?
Although there's lots to remember, it can be a greatly enjoyable break – giving you a different experience from the traditional summer caravan break. And there are plenty of caravan parks close to natural beauty spots, giving you the perfect opportunity to explore some of the country's most scenic areas during the winter.